Wednesday at the Square

March 6-May 22, 2013

When:
Wednesdays from
March 6 - May 22, 2013
5:00 p.m. - 8:00 p.m.
Where:
Lafayette Square
Cost:
FREE!
More Info:
Click Here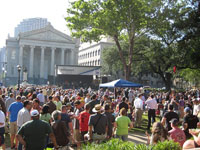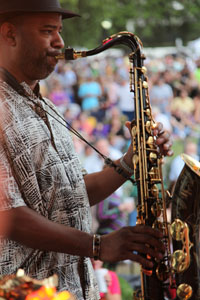 Looking for something free and exciting to do in downtown New Orleans on a Wednesday afternoon in this spring? Come to Lafayette Square for a taste of great New Orleans music, food and fun!
The 14th Annual "Wednesday at the Square," as the event is called, is a series of twelve free outdoor concerts from early March through late May by well-known New Orleans and Louisiana artists. Elevated above the crowd on a big sound stage, bands perform a wide variety of indigenous musical styles, including jazz, rock, funk, swamp pop, Latin rhythms and more. In addition, you will be treated to the sounds of some of New Orleans' most famous brass bands. You can bring your own chairs or blankets and sit on the ground. The front of the stage is reserved for dancing.
Here is this spring's music lineup:
March 6: Anders Osborne + Colin Lake Band
March 13: Bucktown All-stars + Park Row
March 20: Col. Bruce Hampton + Andrew Duhon
March 27: Marcia Ball + Jenn Howard
April 3: Irvin Mayfield and the Jazz Playhouse Revue with special guest Kermit Ruffins + The New Orleans Jazz Institute's Saturday Music School
April 10: The Mother Hips + Jon Roniger
April 17: The Revivalists + Disco Demolition Knights
April 24: Eric McFadden with Bernie Worrell, Luther Dickenson, Eric Bolivar and Robert Mercurio + The Dave Jordan Band
May 1: The Meters Experience featuring Leo Nocentelli + Chris Mule and The Perpetrators
May 8: Ivan Neville's Dumpstaphunk + Mahayla
May 15: Billy Iuso and Restless Natives + N'awlins Johnnys
May 22: (Season Finale performer to be announced May 8) + Westbank Mike
Concerts start at 5:00 p.m. and usually last until 7:00-7:30 p.m. Lafayette Square is located just one block off of Poydras Street, between St. Charles Avenue and Camp Street, opposite the Federal Court buildings. It is within convenient walking distance from all downtown hotels.
All around Lafayette Square are food booths and concessions offering local culinary specialties: everything from creative entrée items to yummy desserts. And, to wash it all down, a variety of alcoholic and non-alcoholic beverages are also offered for sale. All food and beverage items must be purchased with tickets that are sold on the grounds. Food and beverage sales are what help sponsor the events and keep them admission-free. No outside food or beverages may be brought in to any of the events.
Also at the event, local merchants and talented visual and craft artists offer for sale glass art, handmade jewelry, ceramics, photographs, tee shirts, paintings and more at each concert. This is your chance to take home a piece or two (or more) of Louisiana's rich artistic culture.
For those who drive to the event, parking is available in nearby garages or on the adjacent streets where there are parking meters. Paid, on-street parking ends at 6:00 p.m., so bring enough quarters to feed the meters until then. Cars parked by expired meters or not displaying a paid parking receipt on the dashboard will be ticketed.
Pets are allowed in the square during the concerts, provided they are on a leash no longer than six feet at all times. If they display aggressive behavior the owner may be asked to remove them.
Wednesday at the Square is sponsored by the Young Leadership Council of New Orleans. For more information about the event call 504-585-1500, email feedback@WednesdayAtTheSquare.com or visit their website at www.wednesdayatthesquare.com. You can also follow the concert series on Twitter @WedAtTheSquare.